Go To Ottawa Beat: Tribe Royal "Road To Muscle Shoals"
Written By: Owen Maxwell
Photography By: Sean Sisk Photography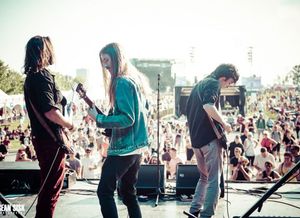 Tribe Royal continues to set themselves apart as an Ottawa band who can reinvent themselves without losing what already makes them so great. In their latest bid to try something new, the rockers focus things in on a double A-Side release. This exploration also lead the band down to Muscle Shoals, Alabama, where producer Norbert Putnam (of Linda Ronstadt and Jimmy Buffett) shed new light on their writing. While there's definitely a stronger pop focus than their previous work, they really sound smooth and fresh in this new record. 
There's such an upbeat and carefree air to the hooks of "Good To Me," it may come as a shock how conflicted the story it tells truly is. In its modern blues-rock sound, the band talk to the struggles of relationships with unequal commitment and bring out a depth in their writing. In theme and even some of the melodies, you can hear inspiration from early Beatles material flowing through Tribe Royal, for a song that could easily fit in that time in music. Though this can make it almost feel hokey at times, they avoid leaning too far in this direction. Most notably, they transcend earlier recordings to make a sound that is wonderfully balanced and digestible. 
While your enjoyment of a much glossier production will likely come down to taste, it's hard to argue with the catchy writing they put into these songs. "Holding On" comes out swinging with bleak feeling of dread, with a lover as their only respite from suffering.  The funky grooves and intricate vocal syncopation makes the song endlessly intoxicating to move to. Even the drums offer a lot more of a swing that you can sink into between the crisp fills. Though this release is arguably a step into classic pop for Tribe Royal, they do a lot to subvert expectations of simple things like pre-choruses. By creating such a strong contrast in their sound and performances, compared to the sombre tone of their story, they really open up their creative possibilities going forward. 
With powerhouse production, and a push into radio-friendly rock, Tribe Royal's latest effort works best by staying concise. Given a much more accessible and almost overtly family-friendly tone in their sound may alienate some fans, they've rarely sounded so tight. Their two tight singles show maturity and a knowledge of contagious song writing. Though it would be amazing to see Tribe Royal take this approach with a few more sonic risks, it's hard to argue with how fun these songs are to listen to.