Go To: THE VARIOUS COLORS OF THE STAGE SUN OF THE TRIBE ROYAL OF WESTWAY LAB
Photography By: Paulo Homem de Melo
Written By: Paulo Homem de Melo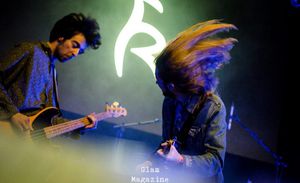 Coming from Ottawa in Canada, the Tribe Royal performed on Friday, April 12 at the CCVF's Box in an integrated concert in the 2019 edition of WestWay LAB.  

Although dating to 2016, " Colors of the Sun " is the latest album of the Canadian band, which seeks in Native American roots the rock soundness that they want to color. 
Energy on stage, they staged one of the best concerts of the night of April 12 in Guimarães.  
Country brushstrokes in an authentic sound but always with an eye on the North American market.
See Full Performance Gallery at: Glam Magazine.pt